June 2017
Male – 24 year with my using the new LET Medical technology of ENS
This photo was taken prior to diagnosis

Diagnosis: Stage 4 Germ Cell Cancer this was diagnosed 10 days prior to attending. There is a large tumour positioned between the liver and pancreas. 4 days of Chemo had been administered and then he was released from hospital.
The therapy that was used for this male's recovery was a protocol developed by myself together with Dani Benjamin (a naturopathic nutritionist and Asyra/Qest4 Practitioner). We have developed a protocol with nutritional support, yoga appropriate exercise plus meditation and breathwork. Our large network of complimentary practitioners allows us access to the use of a hyperbaric chamber plus referral herbalist when appropriate. The male was at this time also receiving help from various emotional and spiritual groups including a meditation group etc.
Lead up to case:
For a number of years (approximately ten) he had experienced IBS-like symptoms and cramps at both stomach and diaphragm. He also had referred pain at his upper thoracic and was coughing up blood. Subsequently the issue had travelled to the lungs.
NB: He had been allergic for approximately ten years to nuts, fried foods and some raw vegetables. Finally he obtained a diagnosis and was given 4 days of very strong chemo. Following this chemo a colleague referred him to us. 1 week after the medical diagnosis the blood phlegm had ceased.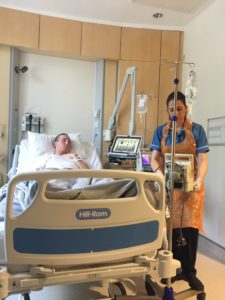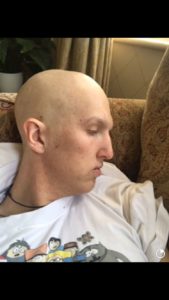 Following the chemo he had troubles with ulceration in his mouth, loss of appetite, nausea and general difficulties. He was quite distressed and depressed. It was programmed that he would have 3 more rounds of chemo.
His background had been a difficult one due to family trauma and there were some mental health issues with another member of the family.
A personalised nutrition plan was written for this patient's appropriate needs. Using the Asyra Qest 4 system together with our latest ENS device we began our newly developed protocol. We have found that using the information gained from The Asyra/Qest4 test results and giving the client these frequencies, as well as using them as information to prepare personalised plans, gives the Cosmodic a better foundation to work from.
ENS uses new software that has an inert setting called the patient diagnostic. With this, I was able to take readings along the entire spine in order to give me insight as to activity levels and priorities of the body without introducing excessive energy to an area that I might want to keep stabile.
First session 1st June 2017 NB: only using Cosmodic working modes throughout.
After a full case taking and extensive Asyra/Qest4 testing and treatment, I followed immediately using ENS to negate any Herxheimer reaction possible with a homeopathic response system. Most systems similarly and including Asyra/Qest4 work this way. Avoiding the abdomen I kept to the body priorities for treating which showed on this first session at the top and the base of the spine.
The duration of the session work on the body was 32.33 minutes.
As I worked at the base of his spine, he felt a sensation at the top of the right shoulder, which was also twitching. At the second placement to the opposite side of the base of the spine he felt a sudden pain in the leg which then disappeared. Also here he felt a sensation momentarily in the chest. At the end of the session he reported a sensation at the site of the tumour and a fluttering feeling. Also, pins and needles in his toes.
After this session he was called back into hospital for the next bout of chemo.
My protocol and advice for Cosmodic in these circumstances is to increase Cosmodic for two days prior to chemo and then 2 days following. This strengthens the body to sustain the poisoning that will ensue to maximise any good that might come and minimize side effects from the chemo. However he was taken in suddenly and our next session was scheduled to be on 22nd June.
2nd session: 22nd June 2017
We checked in with the diet and lifestyle changes and what he had managed to implement while he was under chemotherapy. Rebalance and assessment with Asyra/Qest4 and alterations to his nutritional support plan. Massive hair loss was now an issue. Although, he felt ok, he reported tiredness and nausea. Generally not himself. In his own words, 'this time he had been hit much harder'.
For two days he had felt wiped out. Then an infection in his mouth made him feel far worse. Antibiotics and fluids were given. He was kept in hospital this time as he had fever. He managed through a colleague of ours one session per day of recovery with EX735Ag Slider 2. Less than desired but better some than none. Morphine was also administered in hospital. He had lost all confidence and was quite depressed.
Using ENS: This session I worked once again at the top and base of the spine as both were showing high priority readings.
Following this session his complexion had become pink, face, and hands. He felt happy and was smiling again. He noted that 15 minutes before the end of the session he felt good.
The session lasted 50.48.
3rd session. We are now at 31st July. Therefore we check in and re-balance with Asyra/Qest4.
Following the last chemo (which had been programmed following the last session) he had felt awful for one week. We had supported him with a specific diet and food plan plus some liquid supplements. He had additional support with Cosmodic slider 2 plus plasma and hyperbaric chamber and herbs. Medical model had now found that the tumour was shrinking and that no further chemo would be necessary. There was still anxiety due to tumours in the lung as well as some concern with tumours in the liver. Appetite was now improved and we were able to make changes to the nutrient intake.
This session the diagnostic showed areas of systemic causal chain at areas at the site of the tumours but I kept work to top and base of spine and peripheral areas of the body. Since the start of his treatment on day 1, I have been using only Cosmodic settings Using a combination of Cosmodic slider – Cosmodic and finishing each session with a few minutes of Cosmodic Var.
At the end of this session he reported that the tumour felt it was beating more than before and a sensation was noted at the right hip.
Session 4 – 7th August
Today he had a sensation in the left ear. Sharp pains in the bladder, circulation not so good and his index fingers were white and numb. The session lasted for 21 minutes and at the end he felt a popping sensation in the ear. He had now begin to take on kundalini yoga and was looking great.
We amended his diet.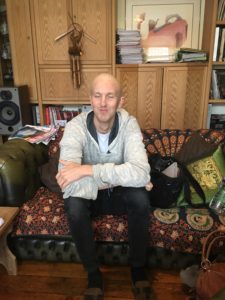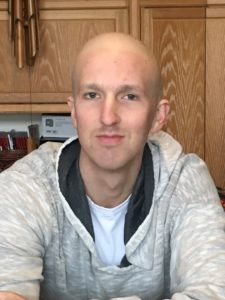 Session 5. 14th August
Stomach today felt dodgy and his left ear was still an issue. Work commenced for 37 minutes to top and base of spine but also upper thoracic. At the end of the session he reported his stomach felt good and we noted that he had poured sweat from beneath his armpits excessively. It was like a tap just turned on.
We saw him the next session at 28th August.
Re-Balanced and check in with Asyra/Qest4 Following a short break.
He mentioned this day of some breathing issues and a bit of phlegm. Lower abdomen came up this day and having cleared this dosing all the session lasted for 19.48minutes and he felt little change at the end.He dripped sweat again from his armpits, throughout the entire session. His hair had regrown and he was now looking and feeling much better for this.
Next session 8 September He was presenting no symptoms and was feeling ok.
The top and base of spine was once again showing body priority so this is where I worked on this day. The session was 23 minutes long as there was little showing form the body although as he was still undergoing medical model appointments I didn't want to leave him without treatment. Nothing of significant change was noted at the end. He had felt quite good at the start and felt the same later. However I noted that his breathing had eased. And when asked, he reported that he always felt good after a session and today was no exception.
We continued to see him twice weekly throughout October and during this time, although he presented no presiding symptoms at the start, each time both during and following my work he had sensations in his liver.
He had two separate weeks of family holidays abroad, of which he was concerned about taking. We encouraged him to be happy and enjoy them as they would be a change of scenery and also a more normal existence with friends and family taking him away from hospital visits and sickness, which we felt, would do him a power of good.
We commenced sessions again during November.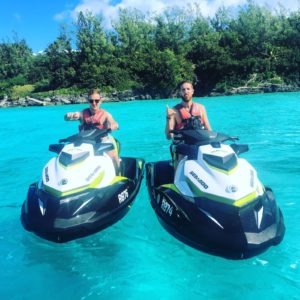 1st November 2017
He was now feeling great but then picked up a slight cold type set of symptoms which then went within a few days. He had just the regular minor aches and pains for example one finger seemed to be lacking circulation and a little numb, however following the session that appeared to change. The only areas showing in the diagnostic chart were at the area that might suggest an arm, hand or finger and a slight awareness to the coccyx area. I in fact now made the session in working mode Cosmodic ENS. He left me feeling good and lighter.
Session 6th November
Nothing much to note, but the finger that had been the beginning of the last sessions issue was now seemingly ok. He had felt that he had an emotional blip at the weekend and eaten a meal with forbidden foods! (Small glass of red wine and some chicken and chips!) This had affected him for a couple of days but his body evacuated it quite well and he corrected his diet straight away and in fact we see this as a good thing, learning curve and a good awareness is now present. So in all a positive crisis!
We continued to work twice weekly in a similar way until 22nd November. Each session was similar and I simply worked at the top and base of the of the spine in Cosmodic ENS, Cosmodic, and Cosmodic VAR.
At this last session in November he was called suddenly and unexpectedly back to hospital to see the specialist and became quite depressed following this visit. They had decided that it would be pertinent to remove what was left of the tumour and that they intended to consider this imminently and arranged a P.E.T. scan to confirm the need for the operation. We were then informed that the tumour had now shrunken from 12cms to just 1cm.
The operation took place 30th November and our colleague once again administered the recovery where possible following the operation once daily, although given the possibility every two hours until the condition has stabilised is my normal rule. Following the operation, recovery in ICU should have been two days but was only one day. He was supposed to have been in hospital for 10 days but stayed only for 5.
Histology was returned and a further meeting was called. He was very nervous. The consultant reported that although the tumour had shrunk to 1cm it was in fact totally dead tissue and they had removed it. Not only, but also all the liver was now clear and looking normal and all nodules / tumours had disappeared and all tissue had normalised. Following the operation his scar at the site had become infected. He returned a couple of times to hospital and was given large doses of antibiotics and an epidural for pain. The epidural had produced a blister in his back, which subsequently healed.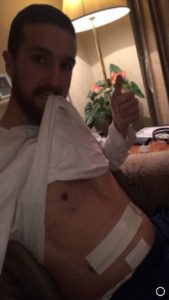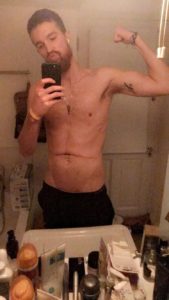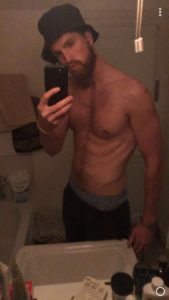 19th December 2017
I saw him next on 19th December, as he was now mobile once again. Although moving gently due to his wound, which I must say is quite large. His sleep had become disturbed due to the wound and the troubles he had with the infection there. He had to sleep on his side now so as not to disturb the wound. I worked at the spine using ENS device once again and used mostly Cosmodic Scenar and also Scenar ENS closer to the site but from the rear.
Regarding post operative Cosmodic recovery: he had received approximately 20 hours administered by our colleague and given in 20-30 minutes bursts. Many of his aches and pains had come up temporarily during this time but all had abated reasonably quickly. Since leaving hospital he was able to have 2-3 sessions 3 or so days apart.
1 week following hospital he had contracted a urine infection and prostatitis. We believe it is possible that this could have been contracted from the catheter. His next blood test was on the 23rd December; the results came on 28th, which showed an increase in blood markers from 21 to 46. This had come as a shock to him (despite our previous warnings) and the medical model attitude was slightly somewhat depressing also. This was however something that we had anticipated, as when one uses Cosmodic there will be some excitation of cell activity as the abnormal tissue is eradicated. However he had forgotten our warning about this and become quite distressed. A second blood test was administered, which showed the marker decreasing and following this a third test which showed the marker had dropped again back to 21 or thereabouts.
His next blood test is to be around 10th February 2018.
18th January 2018
Was his next session for Asyra together with Cosmodic. He had kept his diet reasonably well throughout the entire hospital period and following however his Christmas diet was not so great. He reported slight IBS symptoms on his return to us. There were some negative feelings around the IBS symptoms picked up our scan of Asyra and he resonated and acknowledged these as emotions he was resonated with. He has now adopted the regime given by Dani Benjamin of using a plant based protein diet with some fish and much juicing.
At this session he felt that he was in a very good headspace and has now confirmed to us quite categorically that this operation was the right decision for him although it may not be for someone else.
January 22nd 2018 He has now still maintained a very good headspace and has rebuilt his confidence. He is emotionally great and about to embark on a personal growth-training program to assist in his dealing with his fears when approached by areas of scenarios that are seemingly at the present time, out of his control.
He did present today with mild discomfort as opposed to the slight IBS symptoms, bloating / cramps.
I used ENS device and his readings showed exactly at the site of areas that he was expressing sensations of symptoms to the site of the wound and also a little at colon area.
I did not use the patient diagnostic on this occasion for a number of reasons:
That I had no need to give dramatic motivation to the patient.
That taking individual readings myself is for me more accurate.
I can take more detailed readings as opposed to those indicated by the patient diagnostic mode.
Finally I no longer needed an inert setting to work along the spine in case of any abnormal tissue!
The session took 24.36 minutes until he felt a change and I was satisfied that I had covered all eventualities.
I worked at the area that would cause effect to the site but from the rear as the wound was still a little weeping although clean but septic.
He asked if he could do exercises to eradicate the fold over lump like tissue, which now sat above the wound area. I advised him not to do any such thing until this was fully healed as internally as well as externally as the tissues could be torn open again and this must wait.
He has now assured us that he is doing only gentle exercise and is waiting for the scar to heal.
We will be waiting the results from his follow up blood test in February and until that time we will not see him again, to ensure the markers stay in the normal range.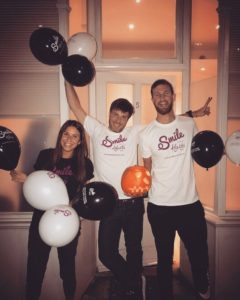 This is him with his flatmate and a friend Michael who intends to run the New York 42k marathon in aid of raising money for the just giving fund 'smiles for Hatti' a cause for others children with cancer.