This was my dog,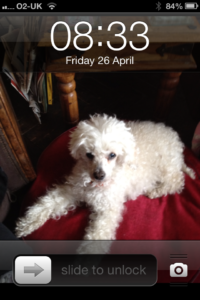 She was sixteen years old on 28th February 2013, as you can see this photo was taken of her on 26th April 2013 in reasonably good health.
Since an almost fatal attack from which she recovered two years previously, she no longer dealt with stressful situations very well including being left alone or being amongst numbers of people.
She also since that time had bouts of breathing difficulties similarly to human-like panic attacks .. although intermittently.
On my return form an evening out, my husband reported to me that without warning she had become suddenly agitated when sleeping and suddenly she had began howling and barking very loudly, but as if in her sleep!
Eventually she appeared to calm down and by the time I came in she was sleeping peacefully.
---
That night she slept as usual. During this time I did place a QWL Laser next to her for some minutes. The following day was as normal but that evening once again and in my presence and without warning, she began screaming very loudly and could not be woken.
After what seemed an age (possibly about a minute and a half) she became calm again. She fell asleep after this and although her breathing was a little laboured. We went to sleep that night and once again a normal kind of night.
---
The next evening after a regular but slow day at around 8pm she got out of her bed and attempted to walk over to me. As she did so, one side of her body dropped and she became walking round in uncontrollable circles .. I leapt to pick her up and once in my arms she began flailing around in a state of fitting, thrashing her neck and head against my chest. I shouted to my husband to rush and get Slider 2.
On his return I placed the device having turned it on into Sc-C-Slider Auto, manual power 5 and placed it on the back of her neck and surrounding area having wetted her fur first. The device dosed several times being replaced each time in slightly different places. In total I worked for 4.11 minutes. The instant that I had done this she was able to walk on all 4 legs again and without turning in circles. She also appeared to have heightened senses. Was now calm and wanted to sleep.
I placed her in her bed considering that this may be the beginning of the end.
I then took this photo of her: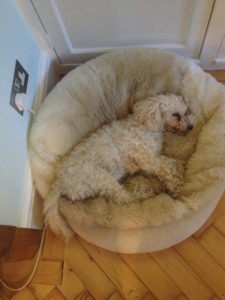 One very exhausted dog with great difficulties in breathing…
Later that night she was a little unsettled and had difficulties laying down and breathing and it was clear that she had developed pulmonary oedema. (and possible heart failure)
We were up much of that night at midnight – 2am – 4am 5am and 7am
The following morning I called our Vet for a second opinion. She confirmed my thoughts and suggested and supplied me with some diuretics of which I administered a small dose in order to drain off the fluid to enable her to breath more easily once again. At the very worst it would do nothing but at best it could work.
The good news was that it had helped a lot more than had been expected, alongside further Slider 2 treating and her breathing improved over the next 12 hours. She had awoken, asked for some food. having eaten two portions of chicken and rice accompanied by a bowl of ASEA water and is now eating and drinking again as normal.
I believe her breathing had improved around 60% and by the next morning she was much better but just a little slow and wobbly.
Video of her that morning:
You can see in this video how her tail is really down and she is having trouble using it for anything outside of balance.
Her legs on one side are dragging and she is not very sure footed.
After treatment of 4 minutes Slider
However over the following two days she was walking well, breathing far more easily and although slightly slower she had become fully mobile and many of her general other symptoms had improved.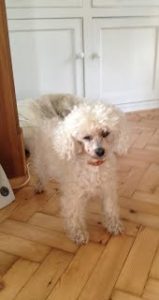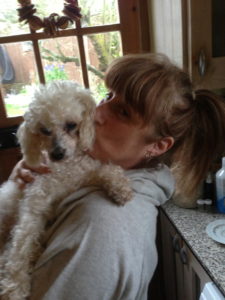 Update 13th May:
From 11pm – 3am the previous night she suffered breathing attacks which occurred 5 times within this period. Each time I had placed the device on her but regardless of how wet I made her fur, contact was minimal. In all 1.27 minutes of dosing each time. At the last attack I also sprayed some ingestible essential oils which together with Slider appeared to work instantly and she lay back down and slept through until this morning.
Since this time she bounced out of the front door insisting to go for a walk .. although slowly, we did walk for about a half mile.
She was following this sleeping once again!
Update 14th May
This day she became excited at our regular walk time and waited for me at the front door!
We went for a short walk and on our way met a little friend who she was very pleased to see ..
Here her tail is wagging once again not quite as fast as before but demonstrating the improvement in her well being!
Out for a walk
18th May
Conclusion:-
She is now as fixed as she can be for a sixteen year old poodle.
To keep her heart from growing larger and her lungs from filling with liquid we are giving her a small dose of some medication which has no side effect. Her time may be limited however for a little dog who is determined to stay with us we owe her our efforts in keeping her as pain free as possible for the time she has left. we administer Slider 2 as often as is needed. We know this as she comes to the door of the room where it is kept and sits waiting until I fetch the device!
Today she is like this and we ware enjoying her once again!
Happy to be here..
Look at the speed of that tail!
Bodie and Me …